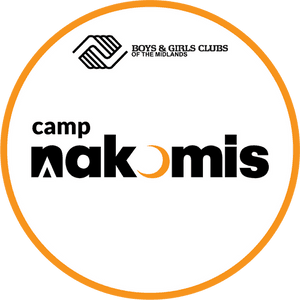 Boys & Girls Clubs of the Midlands Camp Nakomis is located on 35 wooded acres in Carter Lake, IA. Miles of hiking trails, numerous campsites and a fishing dock give campers countless opportunities to enjoy themselves, all in a safe and positive environment. Camp Nakomis is the perfect place for youth ages 6-14 to enjoy the outdoors. Camp Nakomis is open to the public.
We have several outdoor activities for your child/ children to enjoy. We have 9 campsites, a beach, fields, swimming pool, a fishing dock, canoes, a pontoon boat, archery site, outdoor billiards, race car track and a basketball court. Throughout the course of the day, we rotate through the different areas and sites enjoying the outdoors and participating in group games and activities. Day to day we will fish, hike, shoot bows and arrows, make friends, swim and of course have fun. Our weekly themes will be incorporated throughout those activities.
Registration will open Wednesday, February 1st at 12:00 AM
Please reach out to Courtney Comfort at the Carter Lake Boys & Girls Club to be added to the waitlist at (712) 347-5687 or CComfort@bgcomaha.org
---
Location
Follow us on Facebook!
---
Cost & Registration
$165 per week per camper
Campers may sign up for one week or up to all seven weeks. Parents may sign up multiple campers at the same time, but must be the parent/guardian of all campers they enroll. Registration will remain open for all weeks as long as spots remain.

Registration Notes:
- Please only register for weeks you intend your camper to attend.
- Payment must be made in full for all weeks registered. Weekly payments will not be accepted.
- Refund requests will only be granted prior to May 1st, 2023.
- No refunds will be granted after May 1st, 2023.
- Upon completing payment, you may print a receipt with the Boys & Girls Clubs of the Midlands' Tax ID number included for your records.
- Registration and payment information will be sent directly to Camp Director, Courtney Comfort.

*Completed application and checks can be mailed to:

BGCM Carter Lake, c/o Courtney Comfort
4101 N. 17th Street
Carter Lake, IA 51510

REGISTER FOR CAMP ONLINE:
Must use Microsoft Internet Explorer 5.0 or greater
---
Camp Weekly Themes
Week 1 (June 5th -9th ) – Aloha, Summer!
Aloha, summer! Welcome back to Camp Nakomis and the beginning of summer! This week we will be learning new games and engaging in all the activities Camp Nakomis has to offer. Get ready for swimming, canoeing, finishing, archery, capture the flag, ping pong, and much more!

Week 2 (June 12th -16th ) – Minute to Win It
Join us for a week of minute to win it games, sports, and competitions here at Camp Nakomis!

Week 3 (June 20th -23rd ) – Camp Nakomis Circus 
Ladies and gentleman, boys and girls, children of all ages, come join us at the spectacular Camp Nakomis Circus! It's the biggest thing in town this week with sweet cotton candy, cool snow cones, savory popcorn, goofy balloon animals, fun face painting, and many carnival games.                                                           
Week 4 (Week 26th -30th ) – Holiday Week
With July 4th just around the corner, join us for a wacky week of celebrating the holidays in June! Why wait until October to wear a cool Halloween costume, December to listen to Christmas music, or next February to celebrate Valentine's Day when you can celebrate them any day you'd like?
Tuesday – Valentine's Day (wear your pink and red, bring candy to share with your group, and create a Valentine's Day card to show someone how much you appreciate them!)
Wednesday – Halloween (show up to camp in a fun Halloween costume from Halloween's past)
Thursday – Christmas (wear your favorite Christmas sweater, earrings, socks, etc., decorate Christmas cookies, and perform a Christmas carol with your group!)
Friday – July 4 th (dress in your red, white, and blue & prepare for a day on the lake with special treats)
Week 5 (July 10th -14th ) – Camp Nakomis' Got Talent
At one of our most infamous weeks at camp, campers will have the opportunity to prepare for our end-of-the-week talent show! Acts will range from singing, to dancing, to playing instruments and sports. Every camper is welcome and encouraged to join as part of a solo or even group act! Groups will also create skits in which they create an alternate ending to a common fairy tale.

Week 6 (July 17th -21st ) – Making a Splash
Come make a splash at Camp Nakomis and join us for a week of water fun! This week will be all about cooling off with a cardboard boat competition, water relays, and all sorts of other water games!

Week 7 (July 24th - 28th ) – Spirit Week
It's the last week of camp, so join us and show your Camp Nakomis spirit!! It'll be a week full of team spirit team-based activities! Dress for the daily themes, create team flags, create a Camp Nakomis parody song, and compete in activities and relay races against other teams!
Tuesday – Twin Tuesday (match with a friend, counselor, or group of campers)
Wednesday – Wacky Wednesday (wear silly socks, mismatched, inside out, or backwards clothes)
Thursday – Pajama day at camp!
Friday – Color Wars!!
Please Note:
Please note: Boys & Girls Clubs of the Midlands is observing Juneteenth on June 19. We will not be having camp on this day. Rates have been adjusted to reflect this. 
No Camp week of July 4th.
*Please use Microsoft Internet Explorer 5.0 or greater to register online*
Price: $165/week. Campers may sign up for one week or up to all six weeks.
---
Daily Camp Schedule
Daily Schedule

8 am – 9 am: Arrival & Breakfast
9 am – 10 am: area 1
10 am – 11 am: area 2
11:30 am – 12 pm: Lunch is provided
12 pm – 1 pm: area 3
1 pm – 2 pm: area 4
2 pm – 3 pm: area 5
3 pm – 3:30 pm: area 6

All camper groups will get to swim every day.

In the Event of a Heat Day

8 am – 9 am: Arrival & Breakfast
9 am – 10 am: Counselors will greet kids and get groups ready: area 1
10 am – 11 am: area 2
11:30 am – 12 pm: Lunch is provided
12 pm – 1 pm: Water Inflatables
1 pm – 2 pm: Inside the club for games
2 pm – 3 pm: Pool
3 pm – 3:30 pm: Inside the Education Building
---
Camp Area Descriptions
Archery Range

Campers will get lessons from counselors on how to appropriately use a bow and arrow. They can play with a variety of targets and learn different games to play. Their favorite thing to do is get a bullseye!

Husker Campsite

Husker Campsite has a pool table, foosball table, giant connect four, and card games. The campers get their own outdoor billiards area.

Lakefront/Fishing

Campers will get to go fishing at this site. Once a week, we will give boat rides on our very own pontoon boat. Camp Nakomis will provide all sizes of Coastguard approved life jackets.

Sand Courts

Campers can play volleyball, beach volleyball, tag in the sand or create sand castles with water tunnels. Take your pick at this two-court sand volleyball area.

Amphitheater

Circle games, theater games, or obstacle challenges. This area has trunk like bleachers and an open spot for campers to learn and play new circle and/ or theatre games.

Pavilion & Gaga Pit

Triangle Ball, card games, basketball, chalk drawings, and of course a camper favorite gaga ball is played here. The campers have a choice of gaga ball or various different pavilion games.

Inside the Club

Take a break from the heat inside the Boys & Girls Club. Video games (XBOX & Wii) or even watch a movie. Campers can draw, color, make art projects and play board games.

Big Field

Whether it is kick ball, duck duck goose, peanut butter and jelly tag, relay races, or soccer. This huge green space has a lot of possibilities.

Small Field

Water games, group games, world cup soccer, or team soccer. This green space is a bit more shaded and a camper favorite as well.
---
Drop-off Sites
First National Bank Tower

Pick up at First National Tower near the corner of 16th & Capitol. Directly across from the Double Tree hotel.
1620 Dodge Street, Omaha, NE 68102
Pick up at 8:00 am Drop Off at 4:15 pm

Mutual of Omaha

On the East side of 34th Street between Dodge & Farnam Streets
34th St. & Dodge Street, Omaha, NE 68131
Pick up at 8:00 am Drop off at 4:30 pm

Westroads Mall

In front of Von Maur
10000 California Street, Omaha, NE 68114
Pick up at 8:00 am Drop off at 4:45 pm
Please Note:
Campers may arrive as early as 8 am, and get picked up as late as 5 pm. (all Camp Nakomis staff are scheduled to arrive at 8 am at each location and to leave at 5:00 pm. Do not leave any campers unattended. BGCM is not responsible for any campers dropped off before 8 am.)
Campers will be spread out on the buses to adhere to social distancing guidelines.
Please indicate a bus choice that you will have your child ride on a majority of the time. If you need to change it at any point in time, please let us know at ccomfort@bgcomaha.org
We update the bus lists daily. Each transportation staff will get a list of kids going home with them. If you would like your child to take a different one home, that is fine. Please contact us. Counselors will check campers on and off each day. We will ensure your child goes home on the same bus they came, unless otherwise noted. We do accommodate campers on different departures, as long as we are notified.
*** Pick up after 5 pm will result in a $20 late fee.  Campers will not be able to return until that fee is paid.**
---
Visitors at Camp
Parents can join us for lunch every Friday at 11:30. An awards ceremony will also take place at 3:15 every Friday and is open to parents. 
*Lunch will not be provided for parents
---
FAQ
Camp Nakomis Provides:

Water
Sunscreen
Bug Spray
Breakfast
Lunch

What do campers need to bring from home?

Campers are encouraged to bring the following:

Water bottle
Hat or baseball cap
Extra sun block if desired
Mid-afternoon snack if parents feel campers will need one
Swimsuit or old clothes that can get wet/muddy and a towel every day for water activities

Campers MUST bring tennis shoes and socks. (Sandals are permitted for water activities, but must not be the only footwear campers bring for the whole day) *Please note – Boys & Girls Clubs of the Midlands encourages every parent to put camper's names on all personal belongings. BGCM is not responsible for any lost or stolen property.

Can my camper be in a group with a friend?

Campers will be put into groups each Monday. These groups will remain the same throughout the week. We put campers into age-appropriate groups that will work for both staff and campers. Requests to be with friends or with/without siblings will be handled accordingly on an as needed basis.

Are Camp Scholarships available?

No. Camp Nakomis is a fee-based program and scholarships are not available.

When will my camper receive his/her camp t-shirt?

Your child will receive a Camp Nakomis shirt as a thank you for registering. They will receive this on the first day of camp or at the parent meeting.

Inclement Weather / Heat / Humidity.

Heat Advisory Days:
We will combine camp groups and make sure they are outside where there is water, or inside where there is air conditioning for 45 minutes of time and then we will rotate. Each campsite/location will be visited by campers at least twice a week to ensure a successful camp experience.

Inclement Weather:
If there is light rain without thunder or lightning, we will continue our camp day as normal. We will bring campers inside until thunder or lightning have been clear 30 minutes. We will provide themed rain day activities.

Medical Emergencies & Camper Illness.

Camper safety and well-being are of utmost importance; however, kids get bumps, bruises and the like. Non-emergency first aid issues are handled by trained camp staff. Parents will be immediately notified of any major injuries. In cases of emergency, the camp has a fantastic relationship with the Carter Lake Fire Department, and any emergencies involving major injury will be handled by their Fire & Rescue Squads. Camp has complete insurance coverage but requests that all campers have personal medical insurance as well. The closest hospital is Nebraska Medical Center 4350 Dewey Ave, Omaha, NE 68105

Are the Counselors Trained & Certified?

All counselors are certified in CPR & First Aid. All water activities are supervised by our Aquatics Team, who will carry a Lifeguard Certificate on top of the CPR/First Aid Training. The American Red Cross facilitates training.

Does my camp fee include a Boys & Girls Club membership?

No. The Camp Nakomis fees only cover access to the camp itself. Normal club program fees are separate. To learn about club program fees, hours, and locations please visit www.bgcomaha.org and contact the club you are interested in visiting.

Does my camper need a membership?

Campers that will utilize The Club for drop off and pick up will need to secure a Boys & Girls Club membership. The cost of the membership is $30 a year. You may drop off at The Club as early as 7 am and pick up as late as 5:30 pm. Club hours are 7:00 AM-5:30 PM. Please contact club director to set up drop off and pick at the club as well as your $30 membership fee.

Is there a Jr. Counselor Program for older campers?

Yes. The Jr. Counselor Program is back. Youth ages 14-15 may interview to become Jr. Counselors. Interviews with Courtney Comfort will be held by appointment 3/1 – 5/1. Jr. Counselors will assist staff in working Camp Nakomis and learn many important job skills. All Jr. Counselors will receive end-of-year assessments and recommendations. Jr. Counselors must pay half price camp fees. All Jr. Counselors will be asked for a minimum of 2-week commitment.

Can I change the weeks I register for at a later date?

Yes. It is very important that you only register for the weeks you intend your camper to attend, but if a scheduling conflict arises you may change the dates of camp attendance – you can substitute a week for another week, but cannot cancel any weeks after May 1.

Does Camp Nakomis accept Title 20?

No, Camp Nakomis does not accept Title 20 at this time.

How does the camp handle discipline?

The summer is a time for kids to let loose and enjoy themselves in a safe, positive environment. However, any camper who engages in behavior that is dangerous or disrespectful to themselves, fellow campers, camp staff or the campgrounds runs the risk of being sent home for the day or suspended from camp for the duration of the summer, regardless of any amount of fees already submitted.
Please note:
BGCM reserves the right to remove a camper(s) from activities as a consequence of misbehavior. Refunds will not be granted in cases of removal from camp due to discipline issues.
All other questions should be directed to: Courtney Comfort, Carter Lake Campus Unit Director at (712) 347-5687 or ccomfort@bgcomaha.org
---
Contact Us
Courtney Comfort
Camp Director
ccomfort@bgcomaha.org
Phone: 712.347.5687
4101 North 17th St.
Carter Lake, IA 51510